Studio Mocap Series - Conversation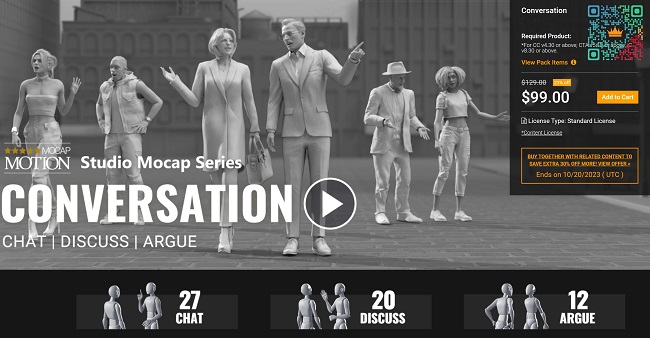 DESCRIPTION:
Studio Mocap Series - Conversation offers various relaxed chatting activities like lively discussions, walking chats, and more. It allows for enjoyable chat scenarios, from friendly talks with friends and work-related discussions to interactions with service personnel. Explore different settings, from calm to enthusiastic and stationary to on-the-go conversations. The collection includes diverse emotional expressions in disputes, from mild dissatisfaction to intense anger. Create dynamic scenes capturing the essence of disputes, whether standing or moving. Enjoy a multitude of tailored chat experiences with this pack. Mix and match with Studio Mocap - Social Hangout Combo, Office Work Combo, Motions for Lovers for even more animation possibilities. All motions are 100% royalty-free and can be exported as FBX or BVH for use in real-time game engines like Unity, Unreal, CryEngine, Game Maker, and others. *For Cartoon Animator v5.0 user:If you wish to purchase more quality 3D motion packs to enhance your 2D animations, then check out our special selection page: Unlock 2D Character Animation with 3D Motions.

FREE FOR DIAMOND MEMBERS SOON

You can use this E-mail to contact us.
WARNING! ONLY REGISTERED USERS ALLOWED TO VIEW THIS BLOCK!
To copyright holders: The current post does not contain any materials that violate your rights the materials that are available for download include only training video, tutorials and examples!
Disclaimer : All Materials are for personal use, training purposes & not for Commercial.