Adventure Outfits & Gears Combo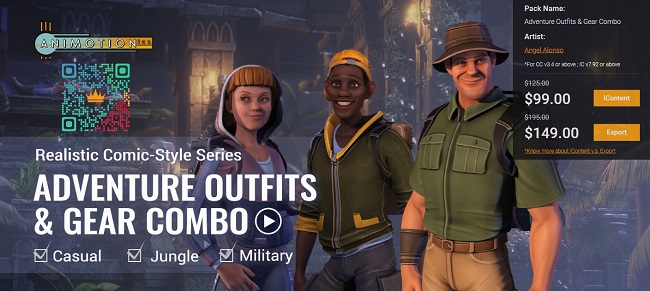 DESCRIPTION:
The Adventure Outfits & Gears Combo pack includes a total 5 sets of outdoor outfits especially tailored for Manny, Joe, Martha, Demarco and Nina found in the Adventure Figures pack. Purchasing the Adventure Outfits & Gears combo pack can get you the extra camping gears props as an exclusive bonus. Every single character's pack includes a full set of outdoor outfits with 3 different looks: casual style, jungle style, and military style. These outfits are standard CC clothes and accessories that can be dressed on other stylized characters. The exclusive bonus "Camping Gears" pack provides 38 abundant outdoor props including; Tents, Backpacks, Handbag, Binocular, Compass, Sleep Bag, Roll Pad, Chair, Lamp, Lantern, Walkie Talkie, Medical Kit, Bowl, Dish, Fork, Spoon, Casserole, Saucepan, Stove, Knife, Dagger, Machete, Axe, Quad Shovel, Round Shovel, and more.

THIS FRESH GREAT CONTENT COST $125 USD (NOW COST 79$ FOR LIMITED TIME)
IN OUR KINGDOM AND EXCLUSIVELY THE PRICES ARE :
FREE FOR DIAMOND MEMBERS

You can use this E-mail to contact us.
We always appreciate all donations from our dear members.
WARNING! ONLY REGISTERED USERS ALLOWED TO VIEW THIS BLOCK!
To copyright holders: The current post does not contain any materials that violate your rights the materials that are available for download include only training video, tutorials and examples!
Disclaimer : All Materials are for personal use, training purposes & not for Commercial.