We're-Besties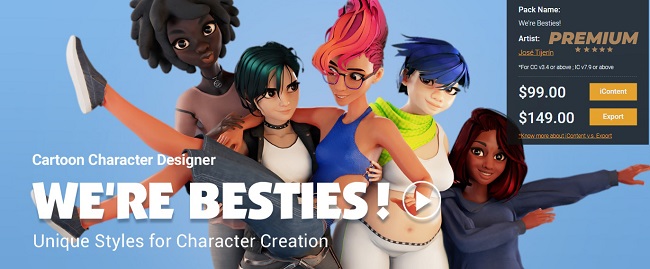 DESCRIPTION:
5 x uniquely stylized female characters by José Tijerín! These fully-rigged characters are well proportioned and attentively crafted with unique styles and personalities. With Character Creator software, these avatars can also be redesigned with your own face and body morph sliders. This pack includes 5 avatars, 5 avatar presets, 5 hairs, 22 outfits and accessories. Vivid facial expression profiles have been created and included to be used with the newly-added ExpressionPlus (ExPlus) system for iClone 7.9. These ExPlus have been specially customized for toon-styled character facial animations. Add them to your facial puppet profile library, and start animating like a pro in no time at all!

THIS FRESH GREAT CONTENT COST $99 USD
IN OUR KINGDOM AND EXCLUSIVELY THE PRICES ARE :
FREE FOR DIAMOND MEMBERS

You can use this E-mail to contact us.
We always appreciate all donations from our dear members.
We always appreciate all donations from our dear members.

WARNING! ONLY REGISTERED USERS ALLOWED TO VIEW THIS BLOCK!
To copyright holders: The current post does not contain any materials that violate your rights the materials that are available for download include only training video, tutorials and examples!
Disclaimer : All Materials are for personal use, training purposes & not for Commercial.