Prosthetic Style Makeup Textures Bundle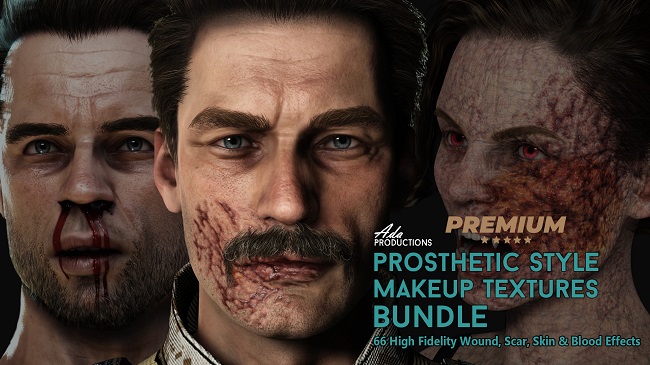 DESCRIPTION:
High-Quality Skin Gen Assets for Character Creator This pack provides a set of 66 Skin Gen Premium assets for artists to create their own prosthetic "film style" makeup inside Character Creator 3. Special Features DMFX is powered by Reallusuion's SkinGen Editor. This allows artists to stack DMFX prosthetic materials, and control the blend options between layers like Photoshop. This combination of our assets allows for almost limitless design possibilities through LAYER EDITING – See our demo. Layer Editing - You can show/hide, edit opacity levels, blend modes, layer order, merge and flatten to create subtly integrated skin texture sets. Dynamic Material Editing - Change material attributes for color, transformation, and tiling. Custom Textures - Create your own unique effects from custom masks, defining the DMFX materials range. Blend Modes for Layer Effects - Blending effects have never been easier with SkinGen's layer stack and blend modes. These Blend Modes behave just like Photoshop; giving artists enhanced materials blending in real-time in the viewport. Combine wounds and skin blend modes for an array of "film style" prosthetic effects.

This pack is the most attractive on the RL website. Really it's a superb pack that deserves its price at RL: $ 200. BUT IN OUR KINGDOM3D WE HAVE AN EXCELLENT OFFER TO OUR MEMBERS:

FREE FOR DIAMOND MEMBERS

You can use this E-mail to contact us.
We always appreciate all donations from our dear members.
WARNING! ONLY REGISTERED USERS ALLOWED TO VIEW THIS BLOCK!
To copyright holders: The current post does not contain any materials that violate your rights the materials that are available for download include only training video, tutorials and examples!
Disclaimer : All Materials are for personal use, training purposes & not for Commercial.