RIGGING BOOTCAMP IN C.A 4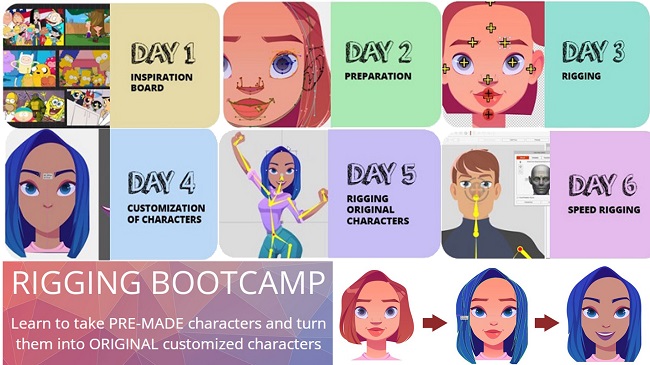 ONLY IN KINGDOM3D & EXCLUSIVELY
DESCRIPTION:
RIGGING BOOTCAMP IN CARTOON ANIMATOR 4
Learn to take PRE-MADE characters and turn them into ORIGINAL customized characters

No experience is necessary, however, some experience using the software is recommended for more significant progress.
For this training you will need 4 programs:
PUREREF - Free software to collect references easily, used in Day 1 for the inspiration board (on day 1 Mark will show you how to get it for free).
VECTOR EDITOR - Mark will use Adobe Illustrator, but we will also be supporting Inkscape (FREE Software)
PSD EDITOR - Mark will use Photoshop, but we will also be supporting Krita (FREE Software)
CARTOON ANIMATOR 4 Pipeline - The techniques used in this training are not compatible with the Pro Version.
BOOTCAMP CALENDER
Day 1: Inspiration Board
Day 2: Preparation
Day 3: Rigging
Day 4: Customization of Characters
Day 5: Rigging Original Characters
Day 6: Speed Rigging


THIS GREAT TUTO COST
$351
IN OUR KINGDOM AND EXCLUSIVELY THE PRICES ARE :
FREE FOR DIAMOND MEMBERS

You can use this E-mail to contact us.
We always appreciate all donations from our dear members.
WARNING! ONLY REGISTERED USERS ALLOWED TO VIEW THIS BLOCK!
To copyright holders: The current post does not contain any materials that violate your rights the materials that are available for download include only training video, tutorials and examples!
Disclaimer : All Materials are for personal use, training purposes & not for Commercial.