G3 Animated Props-Transition Effects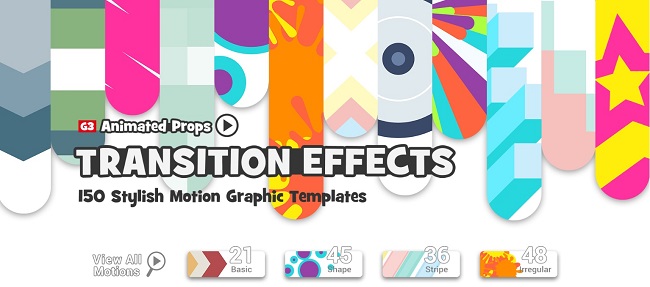 Description:This pack introduces a total of 150 popular transition effects for design artists. All put into 4 categories: Basics, Shapes, Stripes and Irregulars. You can now use these unique and colorful effects to embellish your video design, leaving a great impression on your audience.
Pack includes:
150 Props (3 types of color schemes: Pastel, Vibrant, Classic)10 Bonus Props (2 types of color schemes: Business, Neon)
WARNING! ONLY REGISTERED USERS ALLOWED TO VIEW THIS BLOCK!
To copyright holders: The current post does not contain any materials that violate your rights the materials that are available for download include only training video, tutorials and examples!
Disclaimer : All Materials are for personal use, training purposes & not for Commercial.