World Leaders Vol. 1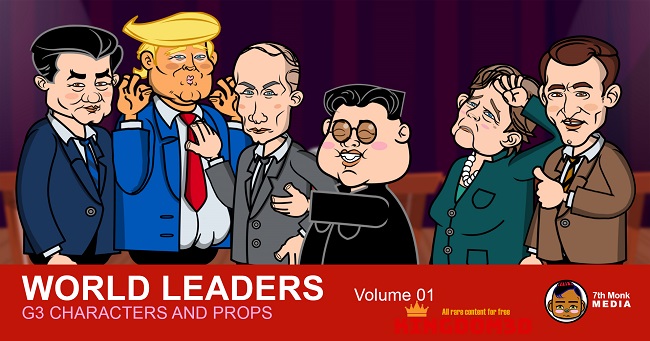 Description:

The World Leaders Vol. 1 Pack for Crazytalk Animator has six comical side facing G3 characters representing the heads of several countries from around the globe.They are a compilation of figures symbolizing those who are in the News and Headlines on an almost daily basis.You can use these figures to create your own serious or satirical news stories, parodies, comics, commercials, etc.! The pack includes: Mr. DT – the Leader of the Free World! Mr. K – the Happy-Go-Lucky little guy with the big smile. Mr. Mac – the guy trying to help save this crazy world! Mr. Pu – who lives a life of chess and always thinks two moves ahead in the game! Mr. X – a quiet and reserved 'man on a mission'! Ms. AG – the serious lady working to stay in control! Includes 4 accessories and 6 props!

Pack includes:Characters : 06 G3 Actors
WARNING! ONLY REGISTERED USERS ALLOWED TO VIEW THIS BLOCK!
To copyright holders: The current post does not contain any materials that violate your rights the materials that are available for download include only training video, tutorials and examples!
Disclaimer : All Materials are for personal use, training purposes & not for Commercial.