Men_Suits_CC3+ & The Man in Jeans & The girl in jeans + BONUS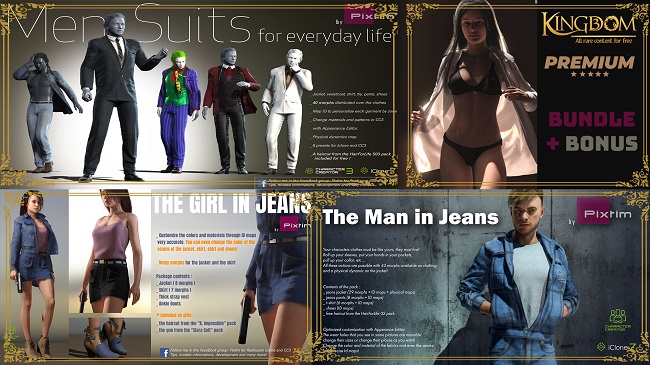 Men_Suits_CC3+
_ Jacket, waistcoat, shirt, tie, pants, shoes _ 40 morphs distributed over the clothes (important: remember to reassign the weight maps to use them properly) _ Map ID to personalize each garment by zone _ Change materials and patterns in CC3 with Appearance Editor. _ Physical dynamics map _ 6 presets for Iclone and CC3 _ A haircut from the HairForLife S03 pack included for free ! _ 6 poses
The girl in jeans
_ Customize the colors and materials through ID maps very accurate. You can even change the color of the seams of the jacket, skirt, shirt and shoes! _ Many morphs for the jacket and the skirt Package contents : _ Jacket ( 8 morphs _ weight map ) _ Skirt ( 7 morphs _ weight map ) _ Thick strap vest _ Ankle Boots + included as gifts : _ the haircut from the "K. Impossible" pack _ the gun from the "Clara Colt" pack
The Man in Jeans
Your characters clothes must be like yours, they must live! Roll up your sleeves, put your hands in your pockets, pull up your collar, etc ... All these actions are possible with 43 morphs available on clothing and a physical dynamic on the jacket! Contents of the pack : _ jeans jacket (29 morphs + ID maps + physical maps) _ jeans pants (8 morphs + ID maps) _ t-shirt (6 morphs + ID maps) _ shoes (ID maps) _ free haircut from the HairForLife 02 pack Optimized customization with Apperance Editor: The wear holes that you see in some pictures are movable: change their sizes or change their places as you want! Change the color and material of the fabrics and even the seams with precise Id maps!

Regular Members: If you want this Bundle at a very low Price, order it now. Just 27$ (96$).


Some Content of this BUNDLE exists in hidden content for premium members.
We always appreciate all donations from our dear members.
WARNING! ONLY REGISTERED USERS ALLOWED TO VIEW THIS BLOCK!
To copyright holders: The current post does not contain any materials that violate your rights the materials that are available for download include only training video, tutorials and examples!
Disclaimer : All Materials are for personal use, training purposes & not for Commercial.
..