Modern Cars II Combo Pack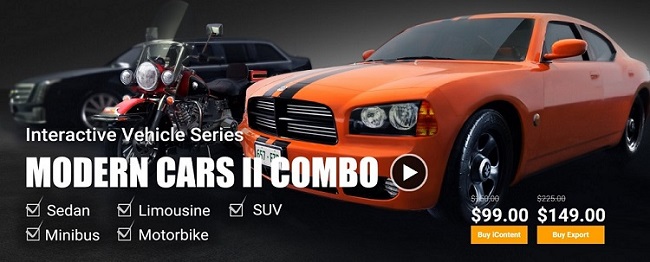 DESCRIPTION:
This interactive modern vehicles pack includes 8 versions of 5 different vehicles, and several iMaterial Plus, to personalize the car interiors and motorbike parts. 1. Sedan Plus 2. Limousine Plus 3. Full-size SUV Plus 4. Motorbike Plus 5. Minibus Plus All the models are low poly with optimized PBR textures, balanced to offer a high-quality look at the minimum weight in order to facilitate their animation in real-time. The models have an embedded Physics Toolbox Controller to drive the motorbike over iClone terrains, while recording the resultant motions in real-time. (Bullet Physics Engine must be activated in iClone)
FREE FOR PREMIUM MEMBERS

We always appreciate all donations from our dear members.
Your comments encourage us.
WARNING! ONLY REGISTERED USERS ALLOWED TO VIEW THIS BLOCK!
To copyright holders: The current post does not contain any materials that violate your rights the materials that are available for download include only training video, tutorials and examples!
Disclaimer : All Materials are for personal use, training purposes & not for Commercial.