Modern Glasses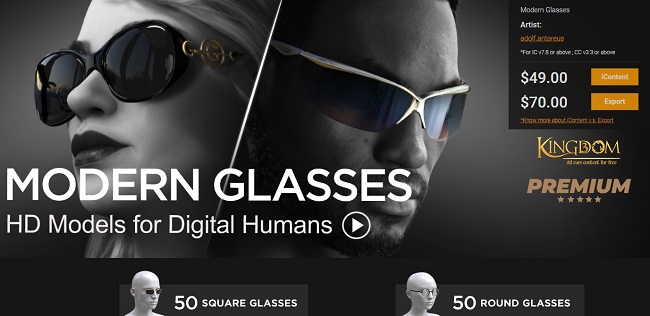 DESCRIPTION:
Adding stylish accessories can easily give your characters a new look. The Modern Glasses pack, are made in high quality so that they can be used in character close ups with exquisite shapes and detailed textures. Each glass series includes 5 types of frames for better matching different types of characters, including reading glasses and sunglasses. The whole pack is supplied with up to 100 variations. Plus, you can adjust a variety of lens styles through the Modify panel. Apply them on either realistic humans or stylized cartoon characters.
FREE FOR PREMIUM MEMBERS

We always appreciate all donations from our dear members.
Your comments encourage us.
WARNING! ONLY REGISTERED USERS ALLOWED TO VIEW THIS BLOCK!
To copyright holders: The current post does not contain any materials that violate your rights the materials that are available for download include only training video, tutorials and examples!
Disclaimer : All Materials are for personal use, training purposes & not for Commercial.