Beard & Brows Builder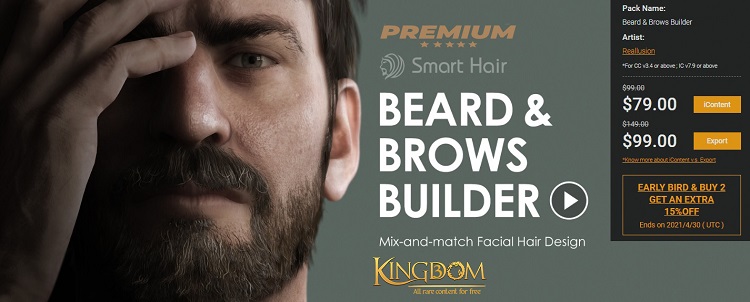 DESCRIPTION:
Character Creator 3 (CC) is a powerful, stand-alone tool that creates stylized or realistic looking, animation-ready 3D characters that connect seamlessly with industry-standard solutions for use with iClone, Maya, Blender, Unreal Engine 4, Unity, or any other 3D tools. Smart Hair is introduced in version 3.4, which is designed to provide the most realistic yet performance friendly Hair, Brows, and Beard for digital humans used in games and films. The card based hair meshes are small in size, economical in texture resolution, and efficient for real-time rendering. The highly flexible ombre color gradients and specular variation are empowered by Smart Hair Shader. The Component Design allows you to freely assemble different hair or beard elements into unique hairstyles. The beard and brows can dynamically conform to any facial movements.

FREE FOR PREMIUM MEMBERS

We always appreciate all donations from our dear members.
Your comments encourage us.
WARNING! ONLY REGISTERED USERS ALLOWED TO VIEW THIS BLOCK!
To copyright holders: The current post does not contain any materials that violate your rights the materials that are available for download include only training video, tutorials and examples!
Disclaimer : All Materials are for personal use, training purposes & not for Commercial.