G3 Puppet Actor Toolkit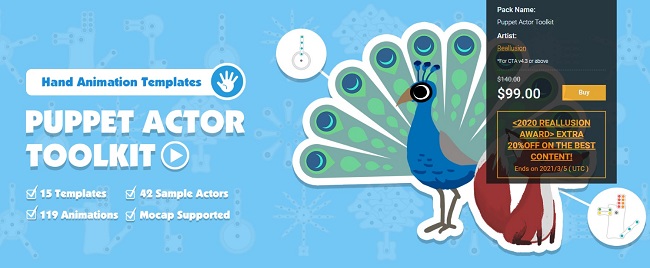 DESCRIPTION:
G3 Puppet Actor Toolkit

This pack is a brand-new CTA hand animation solution from the Puppet Actor Toolkit. It includes: -15 Bone-rigged Hand Puppet Templates -42 Sample Actors With 115 Pre-made Animations -Intuitive Hand Puppet Templates Design Grab a toolkit to get multiple possibilities for 2D animation! You can instantly use pre-made animations, or further customize your own characters through our tutorial.
Cartoon Animator 4 Tutorial - How to Customize your Hand Puppet Actor: https://youtu.be/3XsNjhVtaPI​
For those who have devices, you can also combine this solution with Motion Live 2D, Leap Motion and Perception Neuron Mocap Devices. Animate and control puppet actors by hand! Use the template to customize 2D hands for your actors by using the CTA Photoshop pipeline.

FREE FOR PREMIUM MEMBERS

We always appreciate all donations from our dear members.
Your comments encourage us.
WARNING! ONLY REGISTERED USERS ALLOWED TO VIEW THIS BLOCK!
To copyright holders: The current post does not contain any materials that violate your rights the materials that are available for download include only training video, tutorials and examples!
Disclaimer : All Materials are for personal use, training purposes & not for Commercial.