G3 Scenes & Props Assembly Kits - Street Buildup Systems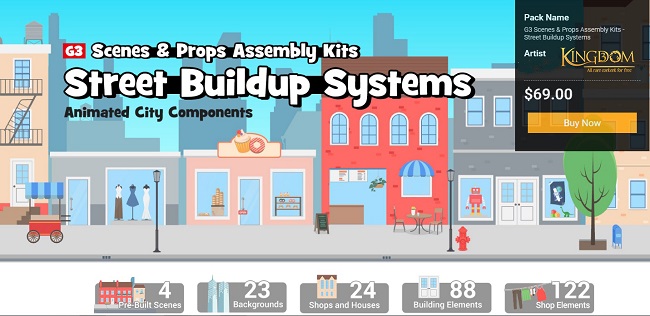 DESCRIPTION:
Every cartoon has a never-ending scrolling backdrop where characters uninterruptedly walk infront. Now you can utilize the same technique with this Street Buildup System that allows you to create long, extending 3D city landscapes that can be customized in no time at all. This pack consists of two major parts; the Street and the Building Component Systems. It delivers more than 200 basic elements for you to assemble your own unique buildings, cars, streets and shops, giving you full flexibility to build, build, build! This collection also contains four ready-built scenes for you to quickly fill any space with city block styles like; Downtown, Old Town, Uptown, and Shopping district. Discover handy features like windows with day and night options, doors that open, and trees and poles that sway, giving your 2D city energy and life. All props are designed in resolution-independent vector formats, allowing you to instantly apply different render-style colors.


Regular Members: If you want this pack at a very low Price, order it now. Just $ 22.

This pack already exists in hidden content for premium members.
We always appreciate all donations from our dear members.
WARNING! ONLY REGISTERED USERS ALLOWED TO VIEW THIS BLOCK!
To copyright holders: The current post does not contain any materials that violate your rights the materials that are available for download include only training video, tutorials and examples!
Disclaimer : All Materials are for personal use, training purposes & not for Commercial.
..