Shuffle Dance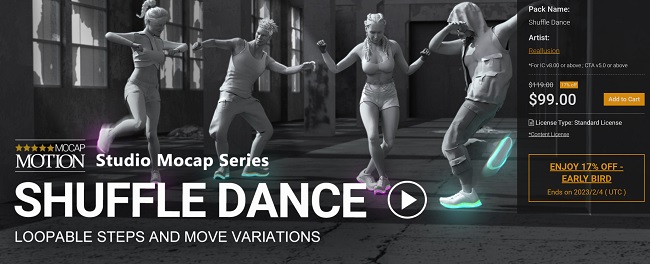 DESCRIPTION:
Studio Mocap Series-Shuffle Dance is a set of 64 high quality loopable shuffle dance moves, 32 male dance moves and 32 female dance moves, including basic shuffle steps, steps combination, and shuffle mashups with other dance styles like krump, hip hop, locking, house; are all contained in this pack. The motions are great for bringing your characters to life whether for music videos, film or other artistic productions. All motions have been attentively captured with professional dancers and state-of-the-art equipment. Freely apply singular motions that are as polished as they come, or combine different motions into one smooth sequence by using iClone's motion editing features to bring your dance animations to the next level.

FREE FOR DIAMOND MEMBERS

You can use this E-mail to contact us.
WARNING! ONLY REGISTERED USERS ALLOWED TO VIEW THIS BLOCK!
To copyright holders: The current post does not contain any materials that violate your rights the materials that are available for download include only training video, tutorials and examples!
Disclaimer : All Materials are for personal use, training purposes & not for Commercial.