Hand-to-Hand Combat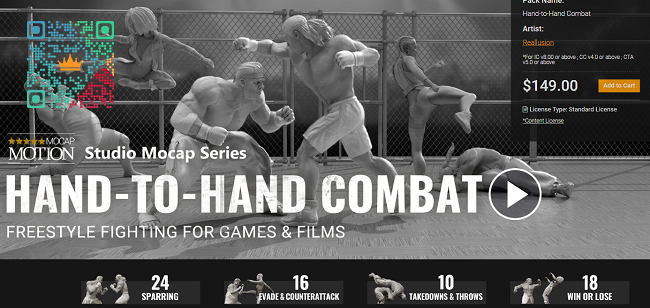 DESCRIPTION:
Studio Mocap Series - Hand-to-Hand Combat includes different combinations of punches and kicks that are commonly witnessed in street fights. As the best combat pack within the Studio Mocap Series, this pack consists of realistic fight moves in the form of punches, kicks, takedowns, evasions, and more. There are also involuntary motions like toppling and getting knocked out or thrown. Have digital actors throw fists, deliver kicks, land takedowns, and piece together combos. Keep it personal between two fighters as they trade blows, or create a melee of multiple fighters for a chaotic free-for-all. Whether for sports tournaments, street fights, or all-out brawls, you are sure to find the right fighting moves for action-packed combat scenes. All motions have been attentively captured with professional stunt actors and state-of-the-art equipment. What's more, they are 100% royalty-free and exportable as FBX/BVH for use in real-time game engines like Unity, Unreal, CryEngine, Game Maker, and more. Freely apply singular motions that are as polished as they come, or combine different motions into one smooth sequence by using iClone's motion editing features to bring your combat animations to the next level.


FREE FOR MEMBERS WHO HAVE RENEWED THEIR MEMBERSHIP.

We always appreciate all donations from our dear members.
Your comments encourage us.
WARNING! ONLY REGISTERED USERS ALLOWED TO VIEW THIS BLOCK!
To copyright holders: The current post does not contain any materials that violate your rights the materials that are available for download include only training video, tutorials and examples!
Disclaimer : All Materials are for personal use, training purposes & not for Commercial.