..
Adventure Series- Multi-purpose Caterpillar Vehicles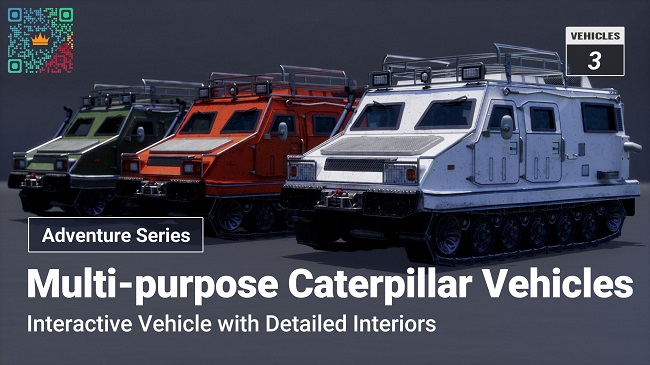 DESCRIPTION:
Adventure Series - Multi-purpose Track Vehicle is part of the Adventure Combo. This pack includes 3 interactive track vehicles. All the models have optimized meshes and PBR textures with well-optimized UV maps, making them perfect for real-time animation. In addition, emissive texture maps simulating retro illuminations in the panels and buttons increase the level of realism of the interior of the vehicles. Precisely, these detailed interiors and multitude of attached sub-props provide a lot of possible operations and configurations, while embedded LUA scripts simplify repetitive operations like activating the windshield wipers or switching on and off the lights of the vehicle. The vehicles can be driven in real-time over the iClone terrains using their embedded Physic Toolbox controller. The vehicle motion is recorded in real-time, including all the track mechanisms, and can be played after in the timeline, enormously simplifying the animation of such vehicles. Note: In order to use the Physic Toolbox Controller, the iClone Bullet Physics Engine must be activated. Please, watch the tutorial video included in this page to learn how to get the best out of this pack. The pack includes: - 1 Caterpillar vehicle Green - 1 Caterpillar vehicle Orange - 1 Caterpillar vehicle White - 1 Dummy Bullet Engine switcher For iClone 7.93 and above and Character Creator 3.44 and above – (Fully Compatible with iClone 8 and Character Creator 4)

FREE FOR PREMIUM MEMBERS


We always appreciate all donations from our dear members.
Your comments encourage us.
WARNING! ONLY REGISTERED USERS ALLOWED TO VIEW THIS BLOCK!
To copyright holders: The current post does not contain any materials that violate your rights the materials that are available for download include only training video, tutorials and examples!
Disclaimer : All Materials are for personal use, training purposes & not for Commercial.