..
Motions for Lovers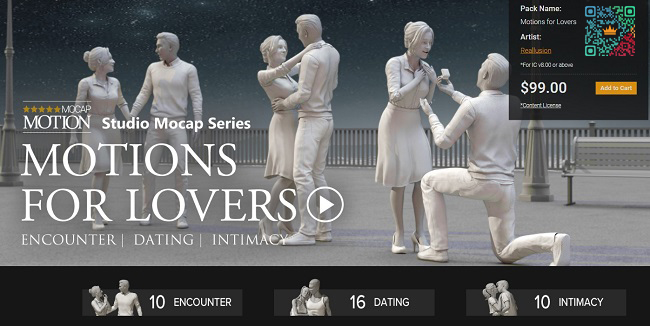 DESCRIPTION:
*This pack is for iClone v8.00 or above. Lack of animations for romantic touch? Motions for Lovers consists of realistic, classical interactions between couples from love-at-first-sight, to falling in love. Find a complete collection of tender animations including dating, holding hands, warm hugging, kissing, and more. Freely apply motions as is, or easily combine them with other motions using iClone 8's new motion editing features!

FREE FOR PREMIUM MEMBERS


We always appreciate all donations from our dear members.
Your comments encourage us.
WARNING! ONLY REGISTERED USERS ALLOWED TO VIEW THIS BLOCK!
To copyright holders: The current post does not contain any materials that violate your rights the materials that are available for download include only training video, tutorials and examples!
Disclaimer : All Materials are for personal use, training purposes & not for Commercial.