Cave Man/Girl Toodees Bundle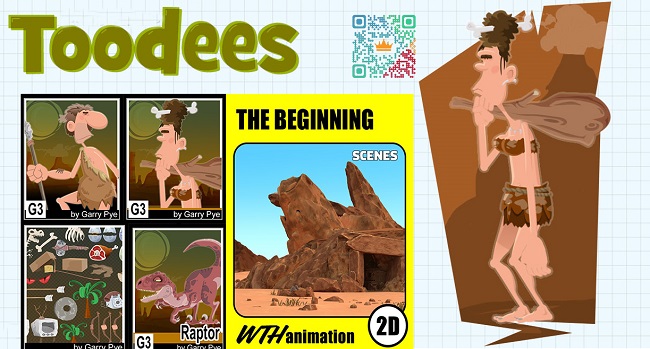 DESCRIPTION:
Meet the Toodees Caveman/Girl. Taking full advantage of Cartoon Animators flexible bone system, The Toodees characters bend and stretch with realistic movement and you can apply side facing motions to them with great results. The Toodees Characters characters are set up for facial puppetry. Two character files are included - one with Bone Hands and one with Sprite Hands. This character has limited 360 head movement. Does not include full head rotation. Additional sprites are built in to this character to simulate the head turn.

The Begining ctScene's for Cartoon Animator 4 are set up with the correct z-axis layering for quality camera control and the ability to move your characters and props about within the scene in the correct perspective. Includes - x3 Backgrounds files 3840×2160 x1 Panorama Background file 7680×2246.

This bundle contains also 32 Caveman props (ctProp) for Cartoon Animator.
THIS GREAT BUNDLE COST $68
IN OUR KINGDOM AND EXCLUSIVELY THE PRICES ARE :
FREE FOR DIAMOND MEMBERS

You can use this E-mail to contact us.

WARNING! ONLY REGISTERED USERS ALLOWED TO VIEW THIS BLOCK!
To copyright holders: The current post does not contain any materials that violate your rights the materials that are available for download include only training video, tutorials and examples!
Disclaimer : All Materials are for personal use, training purposes & not for Commercial.
..