Winter Coats Long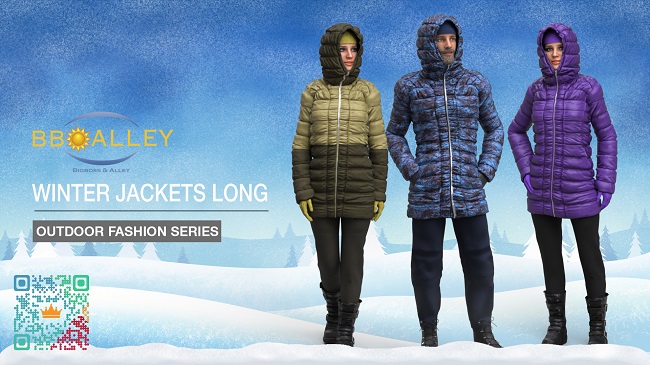 DESCRIPTION:
This is the Winter Coats Long from the "Outdoor Fashion Series". Along with the cloth bases, you get several pre-textured and ready to go pieces. Each piece is customizable using the Substance Appearance Editor inside Character Creator. Pack includes: 1) Cloth Bases - Female Jacket, Male Jacket, Female Snow Pant, Male Tucked Snow Pant 2) 3 Pre-textured Female Jackets 3) 3 Pre-textured Male Jackets 4) 3 Pre-textured Male Hats and 2 Female Hats 5) 1 Pair Female Boots and 1 Pair Male Boots 6) 4 pairs of Gloves 7) 3 Pre-textured Female Snow Pant and 3 Pre-textured Male Snow Pant These Cloths were designed to best fit the CC3+_Neutral_M and CC3+_Neutral_F.

We always appreciate all donations from our dear members.The number of free packs depends on your donations, your feedback and also clicks on ads.
Your comments encourage us.
How to CORRECTLY download files from Linkvertise! (Free Content)
WARNING! ONLY REGISTERED USERS ALLOWED TO VIEW THIS BLOCK!
To copyright holders: The current post does not contain any materials that violate your rights the materials that are available for download include only training video, tutorials and examples!
Disclaimer : All Materials are for personal use, training purposes & not for Commercial.