Kids' Adventure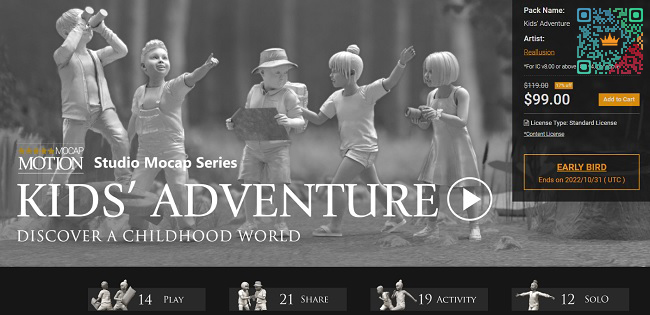 DESCRIPTION:
Studio Mocap Series - Kids' Adventure consists of 66 realistic and natural kids' movements ideal for children to discover a world of adventure. These motions are based on daily scenarios when kids play and interact with each other. You can freely use these motions in daily scenes to make children characters come alive with genuine childlike performances. All motions are 100% royalty-free and can be exported as FBX or BVH for use in real-time game engines like Unity, Unreal, CryEngine, Game Maker, and others. *For Cartoon Animator v5.0 user:If you wish to purchase more quality 3D motion packs to enhance your 2D animations, then check out our special selection page: Unlock 2D Character Animation with 3D Motions.

We always appreciate all donations from our dear members.The number of free packs depends on your donations, your feedback and also clicks on ads.
Your comments encourage us.
WARNING! ONLY REGISTERED USERS ALLOWED TO VIEW THIS BLOCK!
To copyright holders: The current post does not contain any materials that violate your rights the materials that are available for download include only training video, tutorials and examples!
Disclaimer : All Materials are for personal use, training purposes & not for Commercial.