Realistic Human 100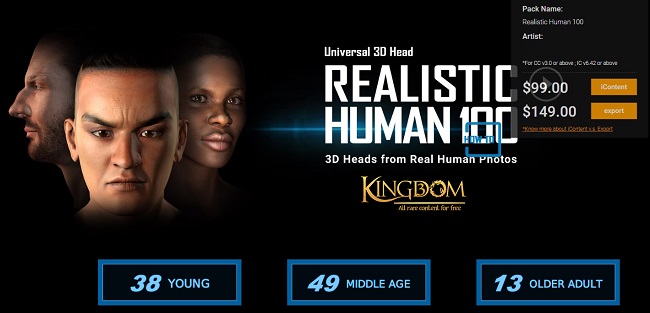 DESCRIPTION:
Universal 3D Head - Realistic Human 100 is designed for instant 3D character animation. This is a fully-rigged 3D human head library, designed for users who wish to include ready-made 3D human characters in any projects that require natural facial animation and audio lip-syncing capabilities. Just as it named, there are a total of x 100 realistic male & female faces in this collection. With textures made with high-resolution (up to 2K), real human photos covering various ethnicity and age ranges. By using the iClone Character Creator tool, users can now easily create unique characters by simply adjusting facial and body morphs, or layering textures with different, dynamic skin materials for detailed wrinkles or cosmetics. At Reallusion, we are very excited for users to employ this new level of optimal realism for 3D human heads. Giving all animators the immediate benefit of an affordable, realistic collection of ready-to animate 3D human faces.

WARNING! ONLY REGISTERED USERS ALLOWED TO VIEW THIS BLOCK!
To copyright holders: The current post does not contain any materials that violate your rights the materials that are available for download include only training video, tutorials and examples!
Disclaimer : All Materials are for personal use, training purposes & not for Commercial.
..