Mechanical Assemblies Kit Vol.1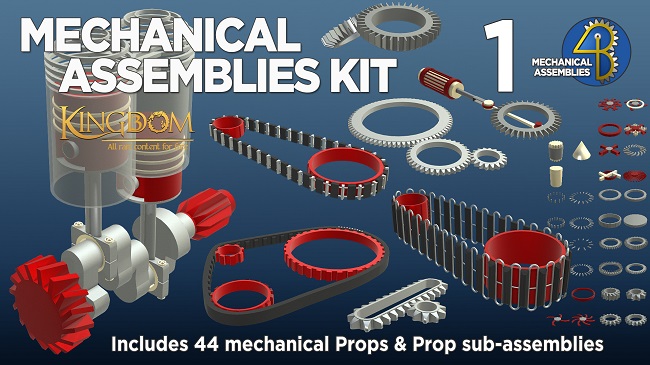 DESCRIPTION:
Bigboss is extremely proud to announce the arrival of a series of absolutely outstanding and stunning Animated Mechanical Assembly Props for iClone by ''Bigboss Big Brother''. This is the Mechanical Assemblies Kit Vol.1 by Bigboss Big Brother. This pack includes 8 Animated Complex Mechanical Assemblies plus 13 Animated Gears you can attach together and further customize by choosing from a selection of 23 Gometrical shapes to represent the center motif of the rotating gears. The Props are low polygon count and are fully optimized for real-time response.

Best use in Steampunk movies or in scenes requiring complex mechanical assemblies.
Method of Use:
1) Position playhead to frame zero
2) Apply animated Gear or Assembly to your scene
3) Apply selected center piece geometry Motif to tour scene
4) Attach center piece motif to the gear
5) Press Play
6) Multi-Duplicate as desired
7) Repeat procedure with other gears, assemblies and sub-assemblies to create complex animated assemblies
8) Save Assembly for future use.
BIG THANKS TO ORESTE
WARNING! ONLY REGISTERED USERS ALLOWED TO VIEW THIS BLOCK!
To copyright holders: The current post does not contain any materials that violate your rights the materials that are available for download include only training video, tutorials and examples!
Disclaimer : All Materials are for personal use, training purposes & not for Commercial.
..