Stair Builder Plug-in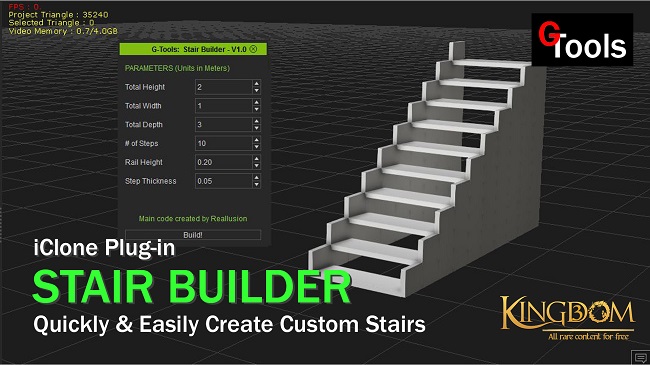 DESCRIPTION:
G-Tools STAIR BUILDER is a tool to quickly and easily create staircases for your projects. By varying the input parameters, you can create standard stairs, wide courthouse steps, shallow architectural steps, or any type you can imagine.
The main STAIR BUILDER code was created by Reallusion -- G-Tools has merely added a GUI front-end to make it easier for end-users to enter and change the stair parameters. The original Reallusion code can be accessed here, along with a detailed explanation of how the program works: https://wiki.reallusion.com/IC_Python_API:Linear_Interpolation
STAIR BUILDER also makes a great accompaniment to the G-Tools BUILDING BLOCKS Plug-In!
INSTALLATION:
1. Unzip STAIRBUILDER.zip
2. Copy (or move) the unzipped PLUGIN folder into the following folder (this example assumes that iClone is installed on your C: drive under Program Files -- you will need Administrator rights to copy to this location):
C:\Program Files\Reallusion\iClone 7\Bin64\OpenPlugin
3. Open iClone to refresh the plug-in list (plug-ins installed while iClone is running will not be shown until iClone is closed and re-started)
4. The plug-in will appear in iClone under Plugins/G-Tools. If you own more than one G-Tools plug-in, they will all be shown here.
INSTRUCTIONS:
1. Open iClone
2. Open the STAIR BUILDER plug-in (Plugins> G-Tools> Stair Builder)
3. Enter desired settings in the PARAMETERS section and click on "Build!"
WARNING! ONLY REGISTERED USERS ALLOWED TO VIEW THIS BLOCK!
To copyright holders: The current post does not contain any materials that violate your rights the materials that are available for download include only training video, tutorials and examples!
Disclaimer : All Materials are for personal use, training purposes & not for Commercial.
..