!! Speed Up Your Animation in iClone 8 !! FULL VERSION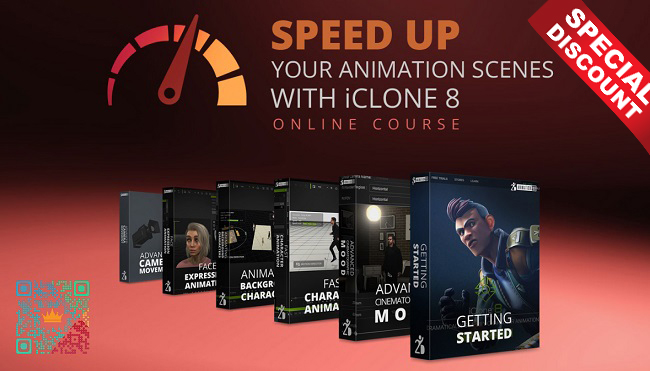 DESCRIPTION:
Here is how anyone can prepare a scene in 1 hour instead of 2 months.

It's not too late, you don't have to spend months learning the software, and then a whole year to get that project finished. Nope! That's totally a waste of time and we respect your time. I am here to tell you, you can learn the essentials of the software in 2 weeks After that, you can start creating your own scene in 1 hour. That's why I am so excited! We want to help you make your scenes come to life!

WHAT WILL YOU GET?

1- 81 HD Course with HD Video Tutorials

2- 10 Modules ordered and structured by difficulty

3- Clear step-by-step instructions anyone can follow

4- Time-Saving shortcuts cheat sheet
MODULE 1

Introduction and Getting Started: Learn the basics of the interface, accessing free content easily and fast, keeping your assets organized for easy access and also saving time using shortcuts to work faster.

MODULE 2

Using Pre-Made Content: Learn how you can get Pre-Made content so you build scenes super fast by just throwing stuff into iClone and get things up and running in no time.

MODULE 3

Creating and Editing: Learn how to create and edit the Pre-Made content so you can change it enough to make it your own and create something original.

MODULE 4

Building from Scratch: Learn how you can create original content from scratch that you can add to the pre-made content and make everything even more original and unique.

MODULE 5

Advanced Cinematic Mood: Learn how you can create 1 full scene with cinematic mood in 1 hour instead of 2 months. You will start from scratch, from having nothing on the workspace to the final scene.

MODULE 6

Fast Character Animation: Learn how to animate quickly by controlling your characters as if it was a video game, instead of the mind-boggling work of using complicated key-framing and adjusting.

MODULE 7

Animating Background Characters Automatically: Learn how you can have background characters and NPCs be animated super fast by just adjusting a couple of settings, pressing START, and just let the simulation start. It'll be like playing SIMS.

MODULE 8

Face Expressions: Learn how you can do accurate lip sync in record time, and then adjusting emotional expressions to have amazing character performances for your animations using the Face Puppet and Face Key controls.

MODULE 9

Advanced Camera Movements: Make your scenes become exciting by learning how you can create great shots, using multiple cameras and creating advanced cinematography with precise camera trajectories.

MODULE 10

Adding Cameras to the Detective Scene: Learn how to tell a story using 6 different shots and camera positions to make the scene visually interesting and appealing so audiences like the stories you tell.


THIS TUTO IS EXCLUSIVE IN OUR KINGDOM!

ORIGINAL PRICE: 500$
DIAMOND PRICE:90$
PREMIUM PRICE:100$
REGULAR PRICE:110$
You can use this E-mail to contact us:

WARNING! ONLY REGISTERED USERS ALLOWED TO VIEW THIS BLOCK!
To copyright holders: The current post does not contain any materials that violate your rights the materials that are available for download include only training video, tutorials and examples!
Disclaimer : All Materials are for personal use, training purposes & not for Commercial.